Ziema Adya (2nd Form) is a Forgotten hero received as a reward for completing Chapter 3 of the Forgotten faction quest. This form of Ziema replaces the original Ziema Adya, and is received at Level 5, with 4 unspent skill points, and wielding the swords Shadowbrand and Shadowbinder. The Attributes shown reflect her initial level, but do not include bonuses from equipment or capacities.
Ziema Adya (2nd Form)

Faction
Forgotten
Unit Type
Infantry

Base Attributes:

Life

182

Attack

56

Initiative

28

Speed

4

Defense

56

Damage

56

Range

3
Lore
[
]
Ziema Adya reborn, a blazing phoenix raised from the ashes of her destruction, is a sight to behold. Reunited with her dazzling swords Shadowbrand and Shadowbinder, she is a howling dervish of blades and menace as she careens into battle; gouts of blood and spasming limbs trail in her lethal wake. Many say she is even more dangerous than the Master Shadow they knew of yesteryear, but if you look closely you will see a recklessness in her eyes... perhaps, some might say, an emptiness. Some scars will never fade away. Ziema might have mastered the perfect dance of death, but at what price to her soul?
---
Skill Tree
[
]
Forgotten Skill Tree
[
]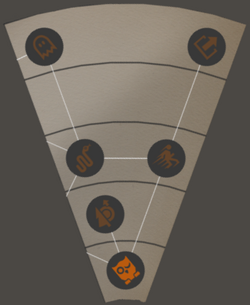 Level
Icon
Name
Effect
Assignment
1
Managed Torpor
Level 1: -2 Assignment cooldown on hero.
Level 2: -2 Assignment cooldown on hero.
Any
2
Arboreal Dust Dowser
Level 1: +1 on terrain with forest.
Level 2: +2 on terrain with forest.
Level 3: +2 on terrain with forest.
City
3
Sang Froid
Level 1: +10% on units.
Level 2: +10% on units.
Level 3: +10% on units.
Army
3
Double or Nothing
Level 1: +50% Seniority bonus on hero.
Level 2: +50% Seniority bonus on hero.
Spy
5
Ghost Force
Level 1: Confers stealth on all units of the army.
Army
5
One Step Ahead
Level 1: -50% Turns in jail on captured hero.
Level 2: Cannot be captured when performing an infiltration action.
Spy
Infantry Skill Tree
[
]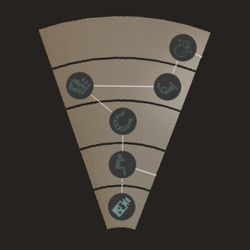 Level
Icon
Name
Effect
Assignment
1
Strength of the Wild
Level 1: +10 defense on hero.
Level 2: +10 defense on hero.
Level 3: +20% defense on hero.
Army
2
Iron Taskmaster
Level 1: +25 Life on units.
Level 2: +25 Life on units.
Level 3: +50 Life on units.
Army
3
Armor Engineer
Level 1: +1 Extra accessory slot on hero.
Army
4
Garb of Battle
Level 1: +5 defense on units.
Level 2: +10 defense on units.
Level 3: +10 defense on units.
Army
4
Rallying Call
Level 1: +2 Reinforcement positions on army.
Army
5
Ice in the Veins
Level 1: Immunity to the movement reduction due to winter on army.
Immunity to the attribute reduction due to winter on army.
Level 2: +20% Defense on hero.
Army
Common Skill Tree
[
]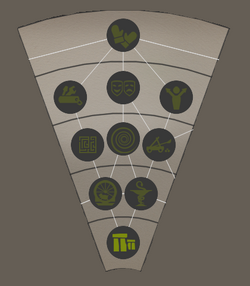 Level
Icon
Name
Effect
Assignment
1
Indiana Bones
Level 1: Reduces by 10% the odds to loot nothing after a search on ruins. Increases by 5% the odds to get loot or an event.
Level 2: Reduces by 10% the odds to loot nothing after a search on ruins. Increases by 5% the odds to get loot or an event.
Army
2
No Idle Hands
Level 1: +1 XP per turn on units.
Level 2: +1 XP per turn on units.
Level 3: +1 XP per turn on units.
Army
2
Fast Healer
Level 1: x2 recovery speed from the "Disabled" state on hero, -20% cost of the instant heal on hero.
Level 2: x2 recovery speed from the "Disabled" state on hero, -40% cost of the instant heal on hero.
Any
3
Siege Mentality
Level 1: +15% Attack on units when being involved in a siege.
Level 2: +15% Attack on units when being involved in a siege.
Army
3
Lord of the Trance
Level 1: +5 on infiltrated Hero.
Level 2: +5 on infiltrated Hero.
Spy
3
Defender
Level 1: +50 Fortification on city.
Level 2: +50 Fortification on city.
Level 3: +100 Fortification on city.
City
4
Thrifty
Level 1: -20% on military upkeep.
Level 2: -20% on military upkeep.
Army
4
Face Reader
Level 1: +15 security on city.
Level 2: +15 security on city.
City
4
Inspirational Leader
Level 1: +5% on city, +5% on city, +5% on city, +5% on city.
Level 2: +5% on city, +5% on city, +5% on city, +5% on city.
Level 3: +10% on city, +10% on city, +10% on city, +10% on city.
City
5
Cold Operator
Level 1: No negative effects from winter.
Any
---
Capacities
[
]
Icon
Name
Effect
Stealth
Can become invisible on all tiles if all units of the army have this ability.
Invisibility doesn't work against adjacent army or unit.
Dual Wield
Can equip 2 one-handed weapons
-50% attribute bonuses on the left handed weapon.
Last Stand
Comes back to life if any unit of its army is alive at the end of battle.
Army Piercing Boost 2
+12 Attack to the army
+9 Damage to the army
Fast Learner 1
+25% to XP gains.
Spying 4
Can infiltrate visible cities of other empires.
+12 Infiltration Point per turn .
+4 XP per turn when infiltrated.
-80% on Hero Upkeep when infiltrated.
Unsellable
Cannot be sold on the Markteplace
Equipment Slots
[
]
Weapons
[
]
Armor
[
]