Martin de Ildan de Suluzzo is received as a reward for completing Chapter 3 of the Broken Lords faction quest. He is Level 3 when received, and his base attributes reflect that, but do not include bonuses from capacities or equipment. It should be noted that De Suluzzo is lost at the end of Chapter 5 of the Broken Lords quest, so it is recommended to not equip him with any expensive equipment.
Martin de Ildan de Suluzzo

Faction
Broken Lords
Unit Type
Infantry

Base Attributes:

Life

132

Attack

41

Initiative

38

Speed

4

Defense

48

Damage

48

Range

1
Lore
[
]
The story of the Broken Lords has a sad parallel in the story of the de Suluzzo family. Once a prosperous and powerful clan with rich holdings in both town and country, the decline of their physical form led to increased interest in their past, their family, and the "good old days". Commissioning ever more impressive artworks glorifying their past while they wrote and read family histories, in time their number and wealth dwindled as their bodies faded to Dust.
Martin, the youngest de Suluzzo -- and perhaps the last -- gained a driving obsession to restore his family and rebuild his nation. The family fascination with the past manifested itself in the exploration of ruins, and one day Martin returned with his servants from a weeks-long journey with a strange artifact in his possession -- and a wild look in his eyes. Since then his energy and charisma have burned like a star, and many see him as a future emperor
---
Skill Tree
[
]
Broken Lords Skill Tree
[
]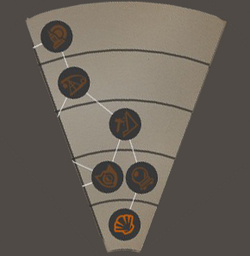 Level
Icon
Name
Effect
Assignment
1
Aquatic Dust
Level 1: +1 on terrain with river.
Level 2: +2 on terrain with river.
Level 3: +2 on terrain with river.
City
2
Dust Diviner
Level 1: +1 on terrain with dust.
Level 2: +1 on terrain with dust.
Level 3: +1 on terrain with dust.
City
2
Distributed Defenses
Level 1: +10% Defense on units.
Level 2: +10% Defense on units.
Level 3: +10% Defense on units.
Army
3
Mining Authority
Level 1: +0.5 resource on deposit.
Level 2: +0.5 resource on deposit.
Level 3: +0.5 resource on deposit.
City
4
Siege Engine
Level 1: +2 Fortification Damage per turn on units.
Level 2: +2 Fortification Damage per turn on units.
Level 3: +4 Fortification Damage per turn on units.
Army
5
Dust Trickery
Level 1: +15% on city.
Level 2: +15% on city.
Level 3: +15% on city.
City
Infantry Skill Tree
[
]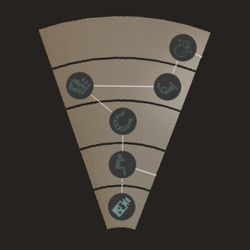 Level
Icon
Name
Effect
Assignment
1
Strength of the Wild
Level 1: +10 defense on hero.
Level 2: +10 defense on hero.
Level 3: +20% defense on hero.
Army
2
Iron Taskmaster
Level 1: +25 Life on units.
Level 2: +25 Life on units.
Level 3: +50 Life on units.
Army
3
Armor Engineer
Level 1: +1 Extra accessory slot on hero.
Army
4
Garb of Battle
Level 1: +5 defense on units.
Level 2: +10 defense on units.
Level 3: +10 defense on units.
Army
4
Rallying Call
Level 1: +2 Reinforcement positions on army.
Army
5
Ice in the Veins
Level 1: Immunity to the movement reduction due to winter on army.
Immunity to the attribute reduction due to winter on army.
Level 2: +20% Defense on hero.
Army
Common Skill Tree
[
]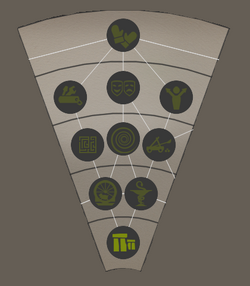 Level
Icon
Name
Effect
Assignment
1
Indiana Bones
Level 1: Reduces by 10% the odds to loot nothing after a search on ruins. Increases by 5% the odds to get loot or an event.
Level 2: Reduces by 10% the odds to loot nothing after a search on ruins. Increases by 5% the odds to get loot or an event.
Army
2
No Idle Hands
Level 1: +1 XP per turn on units.
Level 2: +1 XP per turn on units.
Level 3: +1 XP per turn on units.
Army
2
Fast Healer
Level 1: x2 recovery speed from the "Disabled" state on hero, -20% cost of the instant heal on hero.
Level 2: x2 recovery speed from the "Disabled" state on hero, -40% cost of the instant heal on hero.
Any
3
Siege Mentality
Level 1: +15% Attack on units when being involved in a siege.
Level 2: +15% Attack on units when being involved in a siege.
Army
3
Lord of the Trance
Level 1: +5 on infiltrated Hero.
Level 2: +5 on infiltrated Hero.
Spy
3
Defender
Level 1: +50 Fortification on city.
Level 2: +50 Fortification on city.
Level 3: +100 Fortification on city.
City
4
Thrifty
Level 1: -20% on military upkeep.
Level 2: -20% on military upkeep.
Army
4
Face Reader
Level 1: +15 security on city.
Level 2: +15 security on city.
City
4
Inspirational Leader
Level 1: +5% on city, +5% on city, +5% on city, +5% on city.
Level 2: +5% on city, +5% on city, +5% on city, +5% on city.
Level 3: +10% on city, +10% on city, +10% on city, +10% on city.
City
5
Cold Operator
Level 1: No negative effects from winter.
Any
---
Capacities
[
]
Icon
Name
Effect
Dust Care
Can be healed with dust.
Last Stand
Comes back to life if any unit of its army is alive at the end of battle.
Army Initiative Boost 1
+2 Initiative to the army.
+5% Initiative to the army.
Influence Boost 2
+2 Influence per hero's level on city.
+1% Influence per hero's level on city.
Spying 2
Can infiltrate visible cities of other empires.
+6 Infiltration Point per turn .
+4 XP per turn when infiltrated.
-50% on Hero Upkeep when infiltrated.
Unsellable
Cannot be sold on the Markteplace
Equipment Slots
[
]
Weapons
[
]
Armor
[
]